The Beacon is our new weekly e-Newsletter and is being sent to each registered member of our parish family on Fridays. Communication is an important element in any relationship. As a parish, we share important information through our website, social media pages, the bulletin, Mass announcements and, occasionally, snail mail. The Beacon is a concise tool that ensures that we connect with you when you are traveling or away for a weekend and miss the weekly Mass announcements/bulletin, as well as to share important information with you in an easy to read format complete with hyperlinks to parish web content.
Jesus told us that a city set on a hill cannot be hidden and that we are the light of the world. The Beacon is yet another way of shedding light on the many opportunities we have as parishioners to stand in the Light and to be the light of the world.
As this is the first edition, we ask for your patience as we work-out any "bugs" (hopefully not many!). 
The Beacon
 is being sent primarily to the email address you shared with us, (unless we only have a cell phone number for you and then you received a text message instead of an email). If you wish to change or add an email address or cell phone number, please do so here: 
http://stedward.com/join-us/
(You can also unsubscribe by following the link at the bottom of the newsletter).
Advent is a season of quiet reflection, renewal and anticipation. If you add "ure" to the end of Advent; you get "Adventure". Advent can also be an adventure; yet, not how we experience an adventure on television or while on a thrilling vacation with our family and friends. Perhaps Mary and Joseph were on the adventure of their Holy lives when they tried to find a room for Jesus to be born that chilly, winter's night. Yet, the Christmas Star shined bright on the night that Christ was born in a manger; much like a "Beacon" of hope to a world in need of love and peace. Click 
here
 to join with your parish family as we peacefully adventure together this Advent 2017.As we enter the Season of Advent together, may the anticipation of the birth of the Savior of the World as the one Beacon of hope, love, and peace ever be our glowing example of service to God and neighbor as a House of Prayer and a House of the Poor.God's blessings to you, your family, friends and neighbors, now and always,
Father Brendan
Pastoral Center
Parish Information Session
Father Brendan will host a gathering to discuss the goals and purpose of our new Pastoral Center project. Please join us; meet the project architect; and, share your thoughts and questions with us. Your input is very important.
Saturday December 9th
9 a.m. – 11 a.m. in Knight Hall
All are welcome!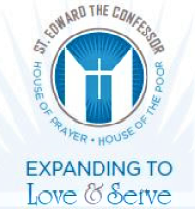 Volunteer Opportunities
Money Counters Needed
Volunteers are needed to help count money for the Parish. The time commitment is approximately two hours one morning each week. Please contact Barbara Belavic (949) 429-2874 if you would like to volunteer or for more information.
Family Assistance Ministries (FAM)
Nearly two years ago, this question was posed to our St. Edward the Confessor parishioners. At that time, the parish entered into a partnership with Family Assistance Ministries (FAM), in San Clemente as a pilot program. In doing so, FAM established a satellite operation at the San Felipe chapel to better serve the poor of our community.
More than 20 parishioners answered the call to volunteer. They volunteered one or two Fridays a month from 10 AM to 1 PM. The program has been an unquestionable success. It is helping the poor and homeless by having access to food, clothing, plus case management services such as shelter and job training. Those parishioners who have volunteered have seen lives changed. They came to know people who have been living on the streets for years receive help and turn their lives around. They have also witnessed families with young children, on the verge of being homeless, receive guidance to get back on their feet and become independent.
The program's success means we are going forward to make this a permanent ministry of our parish. Therefore, we are seeking two couples to serve as leads one or two days a month on Fridays. We are also in need for additional volunteers to help distribute food and gather information to provide to caseworkers.
If this is something you would like to be a part of or want more information, please call,  Cindy Brauer 949-439-0809 or contact Deacon Al Scaduto at ascaduto@stedward.com.
Parish Ministry Opportunities
Please click here to review more information on how you can serve God and our Parish. Thank you!
Links to What's Going On!
2017 Advent Challenge:
21 Peace Practices
The Parish Calendar
Noel Night Concert
Are You Formed?
Join Our Faith Community or 
Update Your Parish Record
Parish Bulletins